Our experience is guaranteed, in the advice provided to more than 80 multinational companies belonging to the Fortune 500 list, strategic accompaniment processes for boards of directors and senior management teams in all Latin American countries, with the highest standards of quality, confidentiality and Total support oriented to corporate results.

Our consultancies
Strategic Organizational Communication Plans (PECO)
Corporate reputation and strengthening of institutional image
Corporate Communication Audit (Communicational structural evaluation)
Public Relations & Lobbying
Communicational risk and construction of unique models (business organization, government and public entities, public figures and opinion leaders)
Relational communication and media intelligence
Strategic communication and soft skills
Internal communication (comprehensive management, humanistic approach)
External communication (systemic management, relational approach)
Personalized consultancies, oriented to corporate results.
Victor García

General Manager at Divercity Theme Park.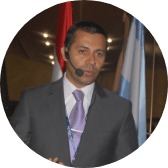 "The greatest reward of a good communication strategy is not the cost they pay for it, but the value it generates when implementing it"
"The greatest reward of a good communication strategy is not the cost they pay for it, but the value it generates when implementing it"
Luis Fernando Martin Pinzón