For many organizations that claim that training with a quality program is expensive, they should understand that failure is completely free.
Luis Fernando Martin offers you tailored programs, with the experience of a professional who has been a teacher at the best business schools on the continent, teaching programs in more than 380 organizations and 35,000 trained professionals in 90 cities in 23 countries in the Americas, Caribbean and Europe, and the option to take the programs in Spanish, English or Portuguese.

Our programs
Strategic communication
Change management and communication
Soft skills and result orientation
Relational communication, emotional intelligence and well-being
Corporate communication, trends and loyalty strategies
Effective communication for work teams
Assertive communication and relationship management
Communication and innovation as the axis of corporate culture
We design tailor-made programs, tell us about your needs and objectives, and we build their content to achieve a return on your training investment, making training and updating spaces a pleasant way to learn.
High-level programs, at the forefront and in line with the challenges of your organization.
Lina Fuentes

Head of talent identification and development of the MAPFRE Group.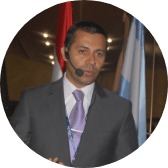 "Bad communication practices go so slowly that poor corporate results catch up very soon"
"Bad communication practices go so slowly that poor corporate results catch up very soon"
Luis Fernando Martin Pinzón